AMITREE FOLIO | GMAIL ASSISTANT FOR REAL ESTATE AGENTS
A NEW WAY TO "WOW" YOUR CLIENTS
Modern technology has changed the way you communicate with your clients and finding a way to "Wow" them while keeping the message clear is imperative. The key is keeping your buyer, seller, escrow agent, and lender in the loop while personalizing communications that are unique to your business. Real estate agents need to show value to their clients above and beyond basic communications, and the right presentation can say a lot about your business.
ABOUT AMITREE FOLIO
Amitree Folio is a great transaction management, communication, and organization tool that works as an assistant for real estate agents.  In fact, it's used by over 100k real estate professionals in the U.S.  Folio can keep your communications on task and provide a clear roadmap for buyers and sellers alike. Additionally, it has the ability to sync with the apps you use most like Gmail, your Outlook or Google Calendar, and DocuSign – making integration into your business simple.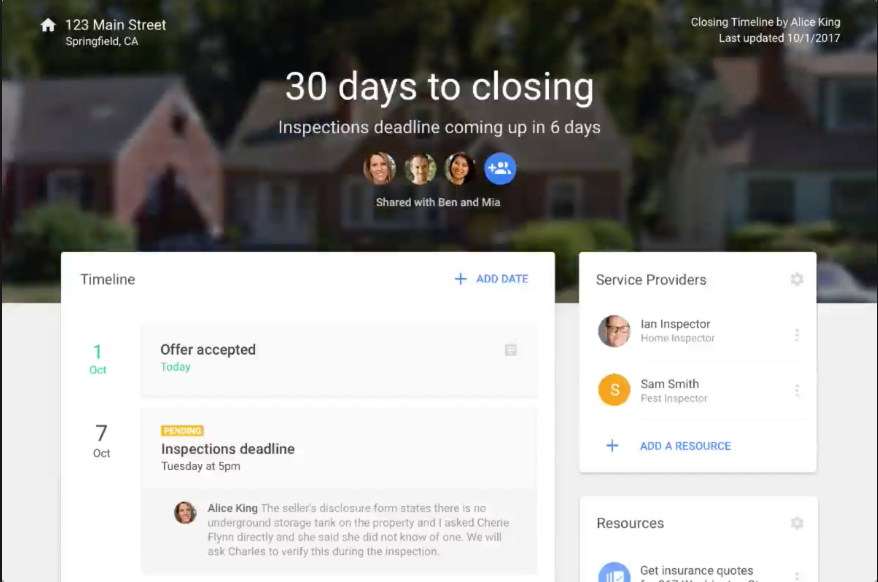 FEATURES
When you are working with a new buyer, it's typical to review the next steps over the phone.  Often, some of the major details can get lost in translation as the thought of potential road blocks, cost, scheduling, and moving overwhelm the buyer. Following up with a visually appealing email that maps out their timeline with important notes can reinforce and remind the client what they need to do next. Folio also features:
Concierge Services – Reminders and preferred service contacts can automatically be sent to your buyers, if requested.
Sharing Timelines – Each transaction has its own timeline that can be shared with your clients. This gives them a comprehensive view of their transaction in real time.
Visibility – Locating important documents, contacts, and client information is quick and easy─ think of it as your digital copy of your client's transaction folder.  When you're on the go, you can easily pull up their file in your Gmail account.
Transaction Organization – The tool is an add-on to Gmail and automatically places your emails into Smart Folders.
PRICING
You can try Amitree Folio for free. If you like the program, they offer a pro plan that is billed annually for $19 per month.  Have questions?  Check them out at https://www.home.amitree.com.
Academy Mortgage is not affiliated with Amitree Folio | MAC1218-1461062